Bashi Saunders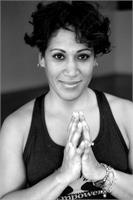 Bashi Saunders instructs the following:
Hot Vinyasa is an energizing, dynamic class that links breath with movement. Your teacher will guide you through a series of yoga postures to create a flow, then each student moves through the flow at his/her own pace. Class is taught in a hot room, accompanied by upbeat music. This is an ideal class for fitness minded students who enjoy a hot, flowing powerful practice.




Slow Burn encourages an inward journey by moving with the eyes closed. Students are encouraged to feel the postures, rather then see them. This class includes flowing, plenty of longer holding postures and opening yin postures. Slow Burn is ideal for everyone. Class is taught in a warm room, accompanied by relaxing music.




Acoustic Chill ~ Live Music & Yoga

Join International Musician Kevin Paris & Empower Yoga's Bashi Saunders for a relaxing evening of feel good beats and flowing yoga vides. All levels yoga practice includes restorative flow and longer holding yin postures.

Workshop runs from 7:30-9:00. Price $35 for Empower Yoga Members ~ $45 for Non-Members.