Julie Cook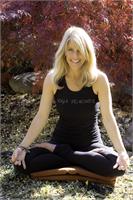 Julie Cook instructs the following:
Yoga Teacher Training Information Meeting! This information meeting is open to anyone who has an interest in our fall program. Lean more about Empower's Yoga Teacher Training Program and how you can get the most out of your experience. Become a yoga teacher or simply deepen your personal practice. *Information meeting is open to all. No membership needed to attend.




Slow Burn encourages an inward journey by moving with the eyes closed. Students are encouraged to feel the postures, rather then see them. This class includes flowing, plenty of longer holding postures and opening yin postures. Slow Burn is ideal for everyone. Class is taught in a warm room, accompanied by relaxing music.




Ashtanga/Short Form is a shortened version of the Ashtanga Primary Series. This class is a traditional, fully guided, energizing form of yoga, that follows the same pattern of postures each time it is practiced. The primary, or fist series of Ashtanga is called Yoga Chikitsa, which means yoga therapy. Class is taught in a warm room, accompanied by soft music or no music at all.




Cool Flow is the ideal "next step" class for our Healthy Backs Students. It is appropriate for the beginner, or anyone who enjoys a non-heated, fully guided, flowing class. Class is taught at "room temperature" and will help build a strong yoga foundation by linking breath with movement. This class includes Sun Salutations, balancing, strengthening and stretching. Cool Flow is accessible to most, and you will leave feeling strong, calm and focused.




Healthy Backs is a restorative yoga practice that is ideal for beginners, or anyone seeking healing and relaxation. This class will slowly move through the basic yoga postures, and leave you feeling refreshed and rejuvenated. Class is taught at room temperature, accompanied by relaxing music.