Garrett Maximiuk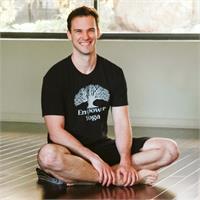 Garrett Maximiuk instructs the following:
Hot Vinyasa is an energizing, dynamic class that links breath with movement. Your teacher will guide you through a series of yoga postures to create a flow, then each student moves through the flow at his/her own pace. Class is taught in a hot room, accompanied by upbeat music. This is an ideal class for fitness minded students who enjoy a hot, flowing powerful practice.




Candlelight Yin is a seated practice that is ideal for anyone who is interested in melting away the stress of the day. Each posture is held for several minutes, allowing you to move deep into the bodies connective tissues. Get a deep stretch, release tension, tightness and stress. Class is taught in a candlelight room with no additional heat. Walk away feeling refreshed & relaxed.




Ashtanga/Short Form is a shortened version of the Ashtanga Primary Series. This class is a traditional, fully guided, energizing form of yoga, that follows the same pattern of postures each time it is practiced. The primary, or fist series of Ashtanga is called Yoga Chikitsa, which means yoga therapy. Class is taught in a warm room, accompanied by soft music or no music at all.