Michele Cassatta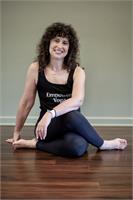 Michele Cassatta instructs the following:
Slow Burn encourages an inward journey by moving with the eyes closed. Students are encouraged to feel the postures, rather then see them. This class includes flowing, plenty of longer holding postures and opening yin postures. Slow Burn is ideal for everyone. Class is taught in a warm room, accompanied by relaxing music.




Healthy Backs is a restorative yoga practice that is ideal for beginners, or anyone seeking healing and relaxation. This class will slowly move through the basic yoga postures, and leave you feeling refreshed and rejuvenated. Class is taught at room temperature, accompanied by relaxing music.




Cool Flow is the ideal "next step" class for our Healthy Backs Students. It is appropriate for the beginner, or anyone who enjoys a non-heated, fully guided, flowing class. Class is taught at "room temperature" and will help build a strong yoga foundation by linking breath with movement. This class includes Sun Salutations, balancing, strengthening and stretching. Cool Flow is accessible to most, and you will leave feeling strong, calm and focused.




Ashtanga/Short Form is a shortened version of the Ashtanga Primary Series. This class is a traditional, fully guided, energizing form of yoga, that follows the same pattern of postures each time it is practiced. The primary, or fist series of Ashtanga is called Yoga Chikitsa, which means yoga therapy. Class is taught in a warm room, accompanied by soft music or no music at all.




Thinking about trying yoga but not sure where to begin? Yoga For Beginners was created just for you. During this 30 day program, you will learn all of the yoga basics in a safe and supported environment. Program includes three 90 minute "Yoga For Beginners" workshops and 30 unlimited day's of yoga. Program price is $149 (includes 30 days of yoga and 3 workshops) or only $99 for Empower Auto Pay members.(This special pricing is for Empower Auto Pay members and only includes the 3 workshops)

*Beginner Workshops meet on Sunday afternoon from 4:00-5:30 pm.




Candlelight Yin is a seated practice that is ideal for anyone who is interested in melting away the stress of the day. Each posture is held for several minutes, allowing you to move deep into the bodies connective tissues. Get a deep stretch, release tension, tightness and stress. Class is taught in a candlelight room with no additional heat. Walk away feeling refreshed & relaxed.